We are committed to providing premium loose-leaf tea for all our blends
Our teas are sourced from top-tier estates across the world. These high-quality ingredients originate from North America, South America, Asia, Africa, and Europe, with an emphasis on organic and ethically-sourced.
Classic Earl Grey
Assam, India
A premium black tea with citrus and fruity fragrances of bergamot. Our Assam is from the West Jalinga T.E. in Assam, known for flavorful black teas.
Assam tea, Ceylon Orange Pekoe with natural flavors
Masala Chai
Assam, India
A hand blended chai with robust and spicy and sweet flavor. Our Assam is from the West Jalinga tea estate in Assam, known for flavorful black teas.
Ingredients: Assam tea, ginger root, cinnamon, cloves whole, green cardamom, natural flavors
Amaretto Cherry
Zhejiang Province, China
Organic traditional Chinese black tea with hints of cherry, blended beautifully with rich flavors of amaretto. Our Pekoe is from the Hangzhou area of Zhejiang Province. The red tea (hong cha) as it is called, is produced by a group of farmers in a tea cooperative.
Ingredients: Organic Chinese Orange Pekoe with organic flavors
English Breakfast
Sri Lanka
Also known as Orange Pekoe, this is the perfect go-to black tea of a perfect base for blending. Cultivated in the most biodiverse tea estate in Sri Lanka.
Ingredients: Organic ceylon orange pekoe
Gunpowder Green
Zhejiang Province, China
Hand-rolled leaves which have a bold and lightly smoky flavor. Our Gunpowder or "Pearl Tea" is cultivated in Zhejiang Province, near the beautiful city of Hangzhou.
Ingredients: Organic Gunpowder green tea
Jasmine
Zhejiang Province, China
Green tea scented with Night Blooming Jasmine blossoms.  Our jasmine is cultivated in Zhejiang Province, near the beautiful city of Hangzhou.
Ingredients: Green tea infused with jasmine blossom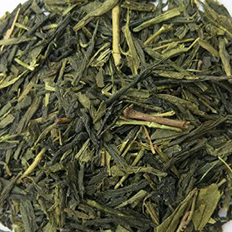 Sencha
Japan
A traditional steamed Green Tea. The processes of steaming helps preserves the fresh color and qualities of the tea from natural oxidation and often finished off with a light roast to offer a great earthy flavor. Grown in the Shizouka Prefecture of Japan, which is first picked in the Spring for North American customers. It is the most popular green tea consumed in Japan!
Ingredients: Sencha green tea
Chamomile Flowers
Giza, Egypt
Chamomile flowers are known for their smooth and calming features. Once steeped, the flowers release a warm and fresh fragrance. A great component used to relax any tea drinker. Our Chamomile is grown in the Lush Nile Valley and is called "Earth's Apple" the Greek translation of Chamomile.
Ingredients: Organic chamomile whole flowers
Lavender
France
Lavender tea offers a strong flowery aroma that calms and soothes. Grown in the South of France, this cultivated Lavender is by a growers co-op.
Ingredients: Lavender petals
Cacao Nibs
Peru
Organic cocoa nibs imported from Peru, which brew a sweet chocolatey flavor.
Ingredients: Organic cocoa nibs
Strawberry Hibiscus
Giza, Egypt
Add great strawberry flavor with dried hibiscus flower infused with natural strawberry oils. Egyptian hibiscus or Roselle, grown by farmers who have been cultivating this for generations, and it is their passion!
Ingredients: Organic hibiscus with organic flavor
Crimson Berry
Giza, Egypt
This sweet and earthy organic combo of berry and rooibos starts with a burst of flavor and ends with a smooth finish. The perfect pairing with a base ingredient or enjoyed on it's own!
Ingredients: Organic hibiscus, rosehips, elderberry, rooibos, natural Flavors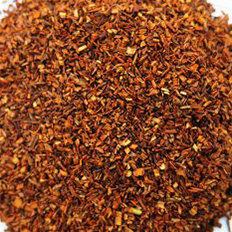 Rooibos
Clanwillian, South Africa
Originating from South Africa, rooibos is a great caffeine free alternative to traditional teas. With sweet and fruity accents, this comforting component is great on its own or as part of any blend. Our rooibos (Red Bush) is from the Clanwilliam region of the Cederberg Mountains in South Africa. This is the heart of the rooibos growing regions in South Africa.
Ingredients: Organic red rooibos
Peppermint
Oregon, USA
Refreshingly cool, peppermint is known for its smooth finish. Alone as a tea it has great flavor and loved by many. Our Willamette Valley Peppermint is from Central Oregon and grown on a 1000 acre farm and is one of the few organic certified farms.
Ingredients: Organic peppermint
Ginger Root
Kerala, India
Ginger root has a sharp flavor with a sweet finish. The perfect ingredient to spice things up! Our ginger is from the Tiruvalla region in the South Indian state of Kerala.
Ingredient: Ginger root
Caramel Nut Oolong
Zhejiang Province, China
Full of caramel and nutty fragrances, this tea provides a grounding woody taste. Our Se Chung Oolong is a specialty of Zhejiang, where some of the best artisanal oolongs originate. This tea is sometimes called the "Black Dragon Oolong".
Ingredients: Organic oolong with calendula petals and organic flavors
Yerba Mate
Misiones, Argentina
This herb is known for its invigorating properties and is full of antioxidants, minerals, and vitamins. Grown in the Misiones region of Argentina, our traditional mate is unsmoked!
Ingredients: Yerba mate leaf
Bai Mu Dan
Zhejiang Province, China
This traditional Chinese white tea is smooth to the taste with subtle notes of honeysuckle. Great as the base of a blend or on its own. Translated to "White Peony" in English, this tea is made with two terminal leaves and a bud. Our Bai Mu Dan is from the Zhejiang Province.
Ingredients: White tea with Darjeeling leaf