Experience loose leaf tea in a

completely new way!
teaBOTs are currently being deployed across
Canada and the United States.
How does teaBOT work?
 Create your blend in 3 easy steps!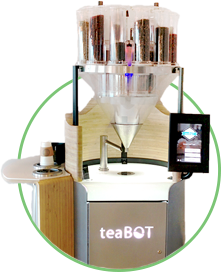 Use the touch screen to create a tea blend and pay on the spot.
teaBOT brews a fresh cup of loose leaf tea!
Customize your blend at the touch of a button.
Mix up to 3 of our 18 premium teas to create your personalized blend. Select from a range of black, green, and herbal tea ingredients!
Order your favourites, right to your door.
Create your favourite blends at the teaBOT kiosk, and your receipt will have a link to reorder your tea, shipped to your door.
Have a question or want to leave feedback?
Want teaBOT in your office,
or retail outlet?